Curtain & Blinds Fitting Service
The professional alternative to doing it yourself
Reading's best curtain and blind fitting service from only £80.00
We fit:
Curtain poles
Roller, Vertical, Roman and Perfect fit blinds
Curtain Rail tracks
Prior to purchasing your blinds we also offer measuring services. We come and measure everything, give you a list of all the measurements and explain to you exactly what you need to order and suggest places where you can order it from.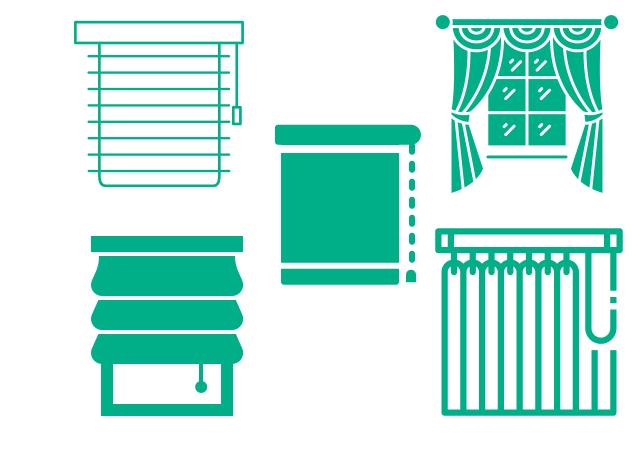 Professional curtain & Blind Fitting Service in Reading
Hanging curtains or fitting blinds is best left to professionals. With over 10 years experience Property Turn Handyman knows how to fit any type of blind or curtain rod regardless of the wall type. All we ask from you is please just make sure to have your blinds, curtains and curtain fittings already purchased and delivered at the time of the appointment аs the handyman provides only the fitting and installation service. We cannot give you an installation slot unless you have all the curtain poles or blinds ready. 
Curtains and blinds fitting process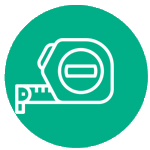 1. Measure twice drill once is our motto.
Before we start, we'll measure everything twice. We also use laser levels where required to make sure your curtain rods are perfectly level. Spirit levels, although good in some cases, can't give you that perfect line you need in order to position curtain rods properly.  We don't rush our jobs!
2. Blinds and recess fitting
When it comes to blinds and recess fitting we'll make sure that they are installed far enough from the frame in order to avoid window and door handles. Usually in new build properties that's around 5cmm away from the frame.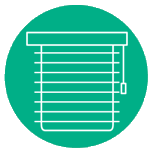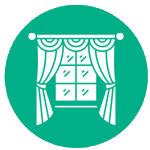 3. Curtain Fitting
After the brackets and curtain poles are installed we'll hang your curtains if you have them ready. We don't supply curtains, hooks, rings or spare parts for your curtain rods. We only supply fittings and screws for holding brackets depending on what type of wall they go on to.
4. We clean up any mess
After we mount your equipment, we'll clean up any mess and leave your area spotless. It's like we were never there. We also use dust catchers so no plasterboard or brick dust will ever reach your floor or any other items that might be underneath.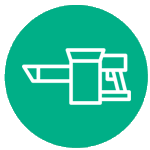 Blind Cutting
If your blinds are too wide to fit into the recess we can cut them to size. This service will cost you extra so please let us know if that's needed so that we can bring all the equipment
Curtain Pole Cutting
We can cut metal and wooden curtain poles if they are too long and not the extendable type. This service will cost a little bit extra if cutting is required.
Wall Fixings
Some companies will provide wall plugs and screws and some won't. Even if they do provide them they are usually not fit for purpose. We can provide proper wall plugs at cost.
Supply or Install
Please note that we don't supply curtains and blinds. We just provide installation services for curtains and blinds that you already purchased. We can help you with measuring prior to purchasing if required.
Ready to book our curtains or blind fitting Service in Reading?